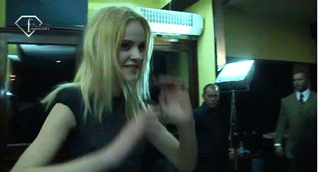 Astrid

Astrid
Physical
Hair
Blonde
Eyes
Green
Height
6'0
General
Birthday
November 26
Age
14
Nationality
Faroese (danish)
Year
Fourth
Wand Arm
Right
Family
Eilif (brother)
Áskil (brother)
Amalja (sister)
Magical
Wand
Blackthorn, Manticore Spike
Blood
Pure Blood
Patronus
Will be a Phoenix
Boggart
Losing her family
Amortentia
Chocolate, freshly baked bread, toothpaste
About Astrid
---
Astrid Aleksandra Bjørgfinnur is a fourth year student at Durmstrang Institute. 
Personality
---
Astrid is excitable and boisterous, probably the most bouncy of the four. She doesn't care much for books or studying and yearns for the great outdoors. However, she has considerable will— but she can be headstrong and quite fierce sometimes. She has a great deal of firepower.
History
---
Astrid was born to a pure-blooded family, alongside her 3 siblings,
Eilif, Áskil, and Amalja Bjørgfinnur— they are quadruplets. They were born and raised on the Lítla Dímun, one of the Faroe Islands (
Føroyar
). No muggles live on Lítla Dímun, and they believe it is "uninhabited", making it a good place for Bjørgfinnurs to live. At the age of 11, Astrid and her brothers and sister all got letters from Durmstrang.

Gallery
---
Astrid's model is Ginta Lapiņa.
Wand
---
Astrid's wand is Blackthorn, Manticore Spike, 9 inches.

Ad blocker interference detected!
Wikia is a free-to-use site that makes money from advertising. We have a modified experience for viewers using ad blockers

Wikia is not accessible if you've made further modifications. Remove the custom ad blocker rule(s) and the page will load as expected.